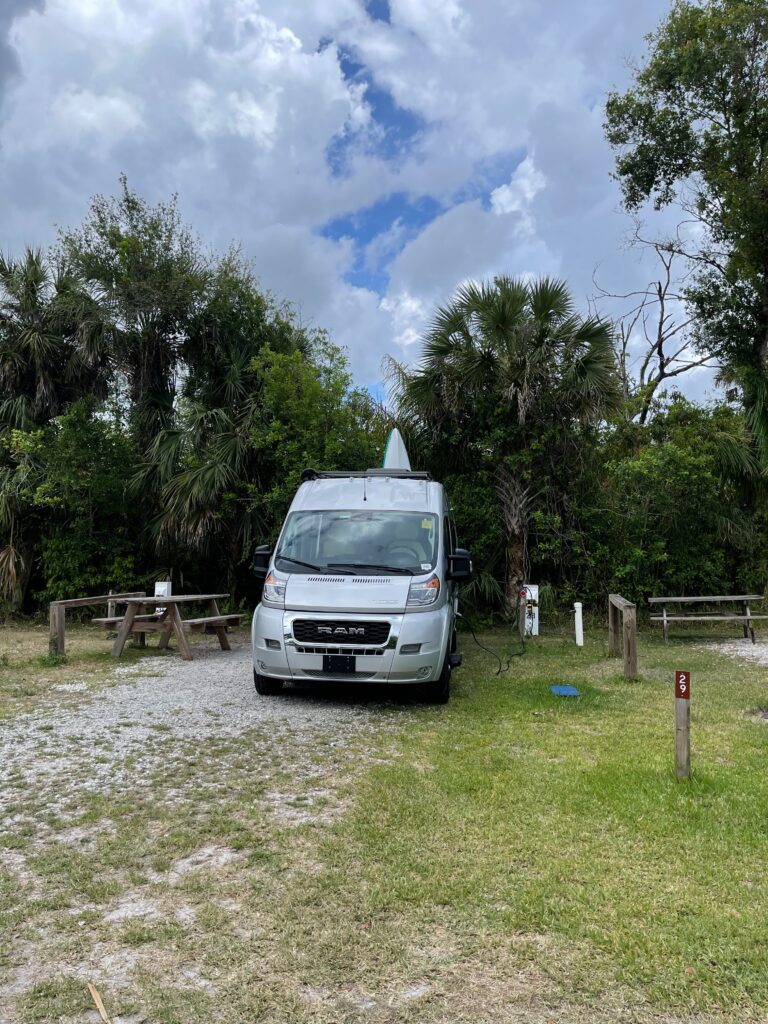 | | |
| --- | --- |
| Date: | April 15-17, 2022 |
| Location: | Collier-Seminole State Park |
| Type: | Water, 30AMP |
| Mileage: | 378 miles |
| Campground: | Site #29 |
| What we learned: | How to put the Kayaks on the RV |
| Would we go back? | Yes, but we would kayak the trail in the park |
| Website: | https://reserve.floridastateparks.org/Web/ |
This is our anniversary trip. Wayne and I have been married for 23 years. He likes to say it is the best 18 years of his life.
We took Friday off from work to get an extra long weekend. Our path took us down Rt 27 to Tamiami Trail West through Big Cypress. This drive is so much nicer, with not many cars and a better pace. The ranger at Big Cypress Visitor Center let us know that there have been baby alligators at Kirby Storter. We have been on the Kirby Storter boardwalk before but did not see much. Taking the advice of the ranger we stopped to check it out again. Boy, are we glad we stopped. There were about 4 small alligators sunning themselves. They looked to be 2 to 3 years old.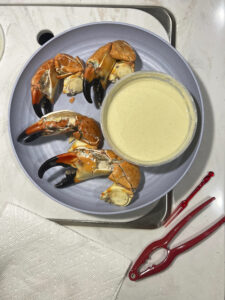 Continued west on Tamiami Trail and stopped in Everglades City at Grimm's Stonecrab for some stone crab claws. Stone Crabs are one of my favorite things to eat. They are only in season from Oct to May. Grimms is a family-owned and operated business, and have been trapping stone crabs since 1979. Their quality is top-notched.
We checked into the campsite and set up. By set-up, I mean plugging in the power, putting out the matt, and turning on the AC. That is how easy and simple it is in our Travato. We sat out and had a rum drink and some appetizers.
Our friends booked a site but were unable to come down till Saturday with their 30-foot travel trailer.
After we all had some lunch, Jamie and I went off in search of more shells and Wayne took a kayak and explored the back side of the island. On the paddle back to the marina we had a bottlenose dolphin in the water and I have never seen anyone paddle so fast. Did I mention Jamie just loves dolphins? It is her spirit animal. It was the best encounter I have had with a dolphin while in a kayak. We stopped on the sandbar to check it out as you can never have too many shells. Well, I guess you can if you are living in an RV, but I am not, at least not yet. We made it back to land and drove back to the campsite.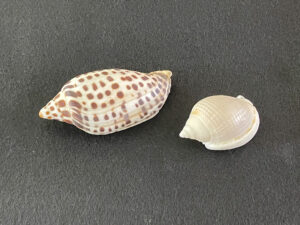 Saturday morning we woke up and unplugged the RV and headed over to Marco Island. Caxambas Boat Park to be exact, so we could put our kayaks in the water and paddle to Kice Island for the day. Kice island is a barrier island off Marco island. The paddle is about 1.5 miles and is easy as you do not need to go out into the Gulf of Mexico. On the paddle over and back we saw dolphins, pelicans, terns, and other sea birds. Why go to Kice Island? For the shelling of course. It is better than anywhere I have been. Better than Tigertail beach, better than Sanibel and Captiva. There are more shells here than I have ever seen on any beach. The star of the shelling show is the Junonia shell, which lives in 60-120 feet of water. They are more common on the west coast of Florida but can be found on the east coast. Another rare star of the west coast Florida beaches is the Scotch Bonnet shell. These shells are more common on the east coast of Florida. It is just relaxing to walk the beach and look for shells and hear the water lapping through the shells. Wayne amuses me by going to the island and he is not a big sheller but takes pictures. There are many dead trees that make for some good photos and some osprey nests with the osprey fairly close. Wayne and I walked back to where we left the kayaks and who do we see but my friend Jamie kayaking over to the island.
We have yet to cook inside the RV and our friends have been RV-ing and camping for 20+ years. We had dinner in their camper so they could show us the ropes and how to properly cook in an RV. Dinner was delicious and it was great to catch up with them.
On Monday we packed up and unplugged and were off to my favorite park Corkscrew Swamp Sanctuary in Naples, FL. We spent many hours here watching pileated woodpeckers feeding and Alligators hunting. There are also native orchids, herons, wood storks, butterflies, owls, frogs, snakes, and other animals. By going slow you can see and hear many animals. The Merlin Bird app will assist in identifying the birds you hear. We always see an unusual sighting at Corkscrew and this visit it was the Carolina Wren. There is a chalkboard where the visitors add the various animals that have seen on the boardwalk.
Watch gator on the move in the video below.
Photos from Kice Island and Corkscrew Swamp Sanctuary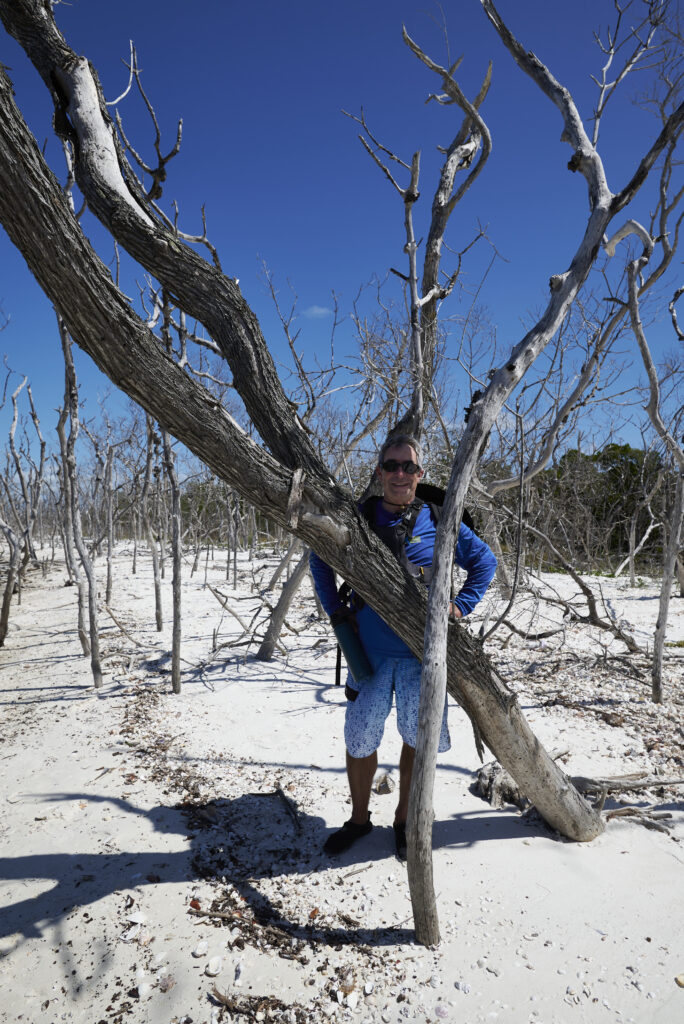 ---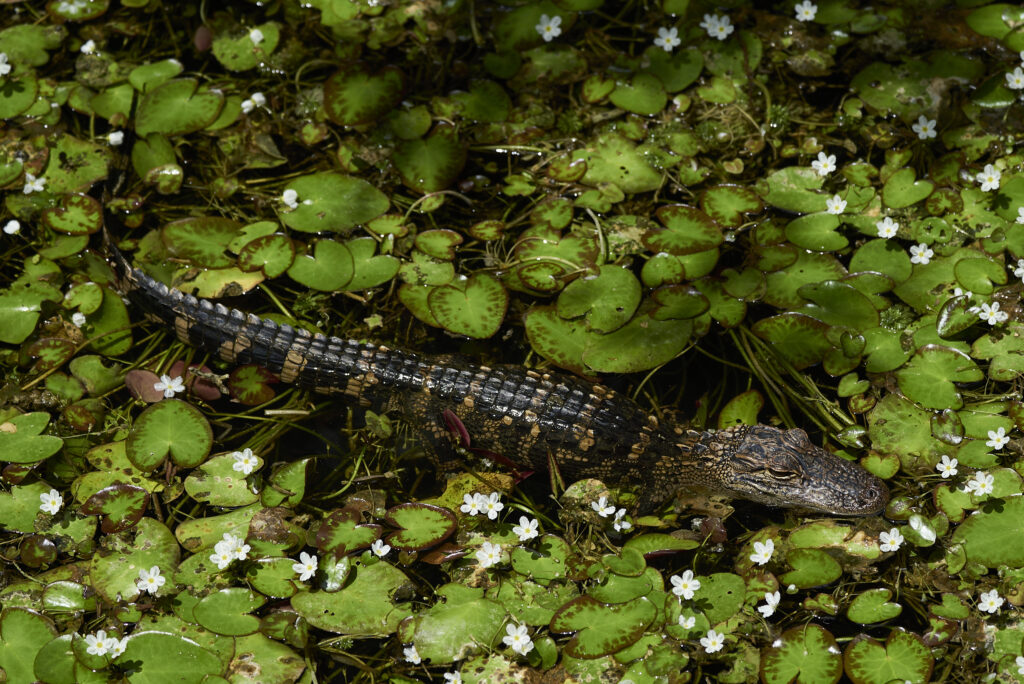 NOTE: All photos and videos are the property of Wayne and Margaret Shoemake. If you want to use them, please click on the contact us page and email us.