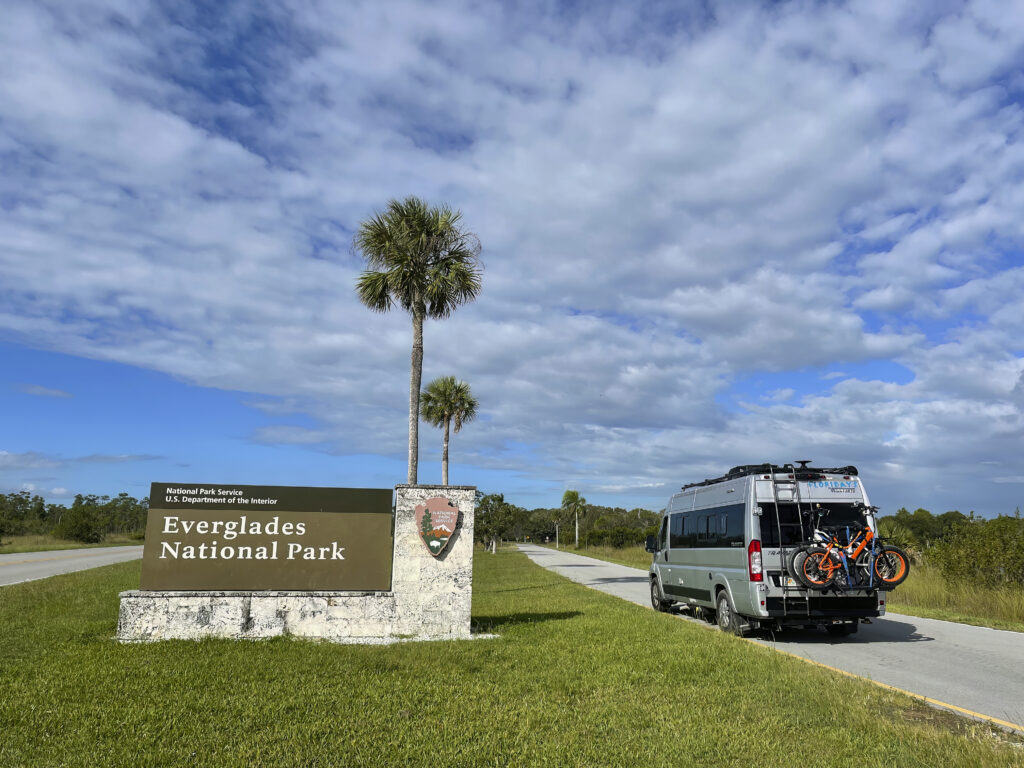 Date:
Oct 29 – Oct 31, 2022
Location:
Everglades National Park
Flamingo Campground
Type:
30 amp
Miles:
358 Miles
Campsite:
# 40
What we learned:
Don't forget the bug spray
Would we go back:
Yes, we are booked for Christmas
Web site:
https://flamingoeverglades.com
Our Favor Dykes State Park trip was canceled due to Hurricane Ian. We were trying to escape for the weekend as it keeps us sane. It is hard to believe but Wayne and I both do not like Halloween. My hatred comes down to having to create my costume when I was a child. Wayne won't tell me. Most campsites are booked up in Florida due to the hurricane affecting the west coast and snowbirds starting to arrive. We thought to get away, really away so we decided to go to the Everglades. Sure enough, they had spots, and when we arrived there were only 6 other campers in the T-loop. Perfect start to a long weekend as we took Oct 31st off from work.
Our drive down to the Everglades was uneventful. We stopped at the Ernest Coe Visitor Center prior to going into the park to get some information on what is open/closed. As it is not season yet, there were no wet walks so we stopped at the gift store and bought a book to read as we wanted to relax and are always ready to learn more about the parks.
On our drive down to Flamingo, we stopped by the Old Ingram Highway. The ranger told us there might be some good birds there. You can drive there from the road that leads to the Nike Missile site. She did not mention the road was skinny, unpaved, and had potholes. But Floridays made it. It was beautiful but not many birds.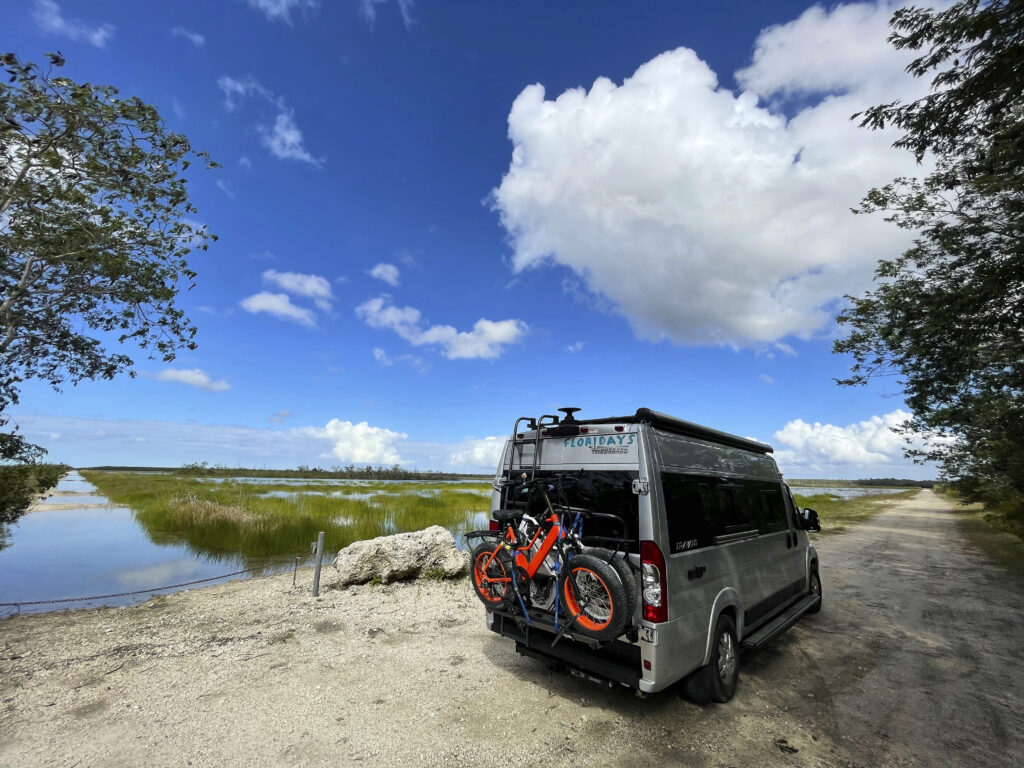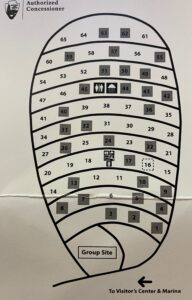 We continued down to Flamingo and checked into the campsite. When making reservations you do not get to reserve a specific campsite just one with or without electricity. Our campsite was #40 in the T-Loop. When we drove in to our surprise there were only maybe 10 other campers and a total of 64 sites. The concession had us all spread out. It was great. The gray on the map means the campsite is shaded, but really there are not a lot of trees so it is only shaded for part of the day. Campsites 1-41 have electricity.
During our stay, we rode our e-bikes everywhere and never unplugged the van. Our first stop was the southern ranger station to get more information about the trails, especially Snake Bight Trail as were going to try this on our bikes. The ranger mentioned that the Visitor Center should be open in a few weeks, which is excellent as we are spending Christmas here so we can see the newly renovated center. They are taking over the whole building you see below. The visitor center will be on the right side and the rangers and law enforcement will be on the left side. He also mentioned that the park is starting a lot of programs up and to look on their website for a listing. You can check them out here.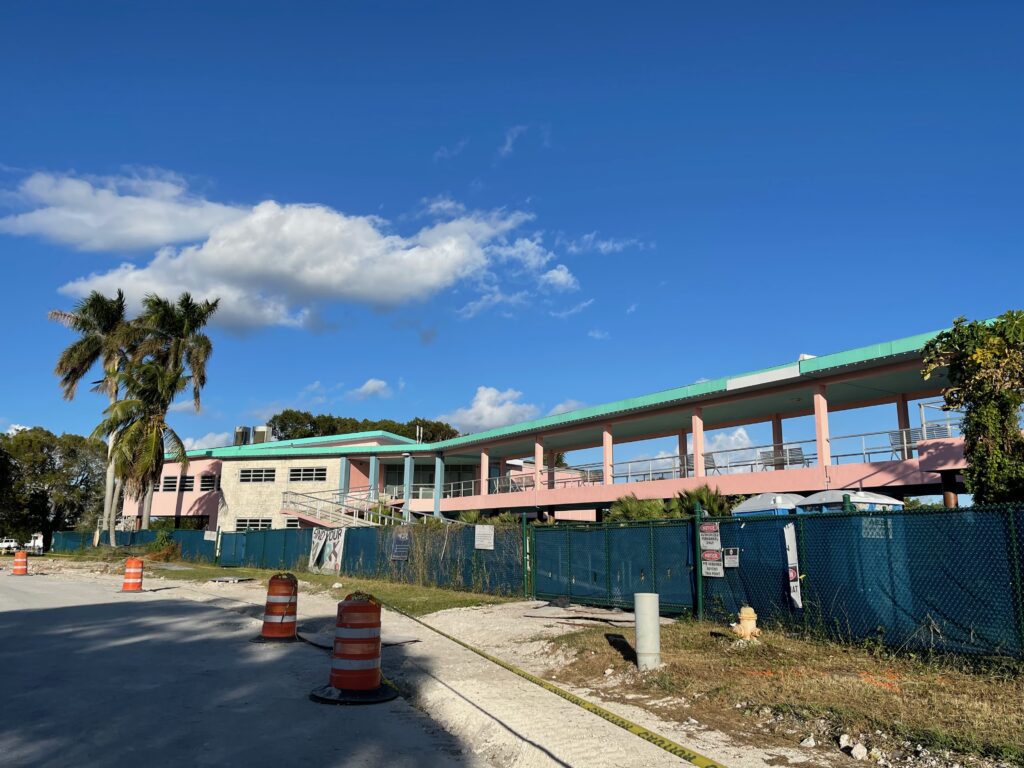 Before we were off to Snake Bight we looked around the marina as there are usually osprey, manatees, and crocodiles. We saw 2 crocodiles and when they moved and swam away you could not see them as they blended in with the tannic waters. The water is a tea color because leaves, pine needles, and other organic matter that falls into the water and break down over time. One crocodile had part of its bottom jaw gone. See picture below in the gallery.
Snake Bight Trail was not as bad as it has been in the past since we were on our bikes and the mosquitoes couldn't keep up. There was also a nice breeze. This is a 1.8-mile one-way trail out to a boardwalk that overlooks the flats. It is best to do this at lower tide as the birds come into the creek to feed on the fish. There had to be at least 30 spoonbills, some egrets, herons (white, green, tri), osprey, willets, and a belted kingfisher but no Flamingos. This is the place you would see wild flamingos and the ranger said they have seen about 6-8 flamingos here recently. It was a nice ride and a beautiful view, so well worth the peddle.
Wayne and I tried to do a little night photography as the campsite was nearly empty and the sky was clear. We got a few pictures but we definitely still need to keep working on the night photography.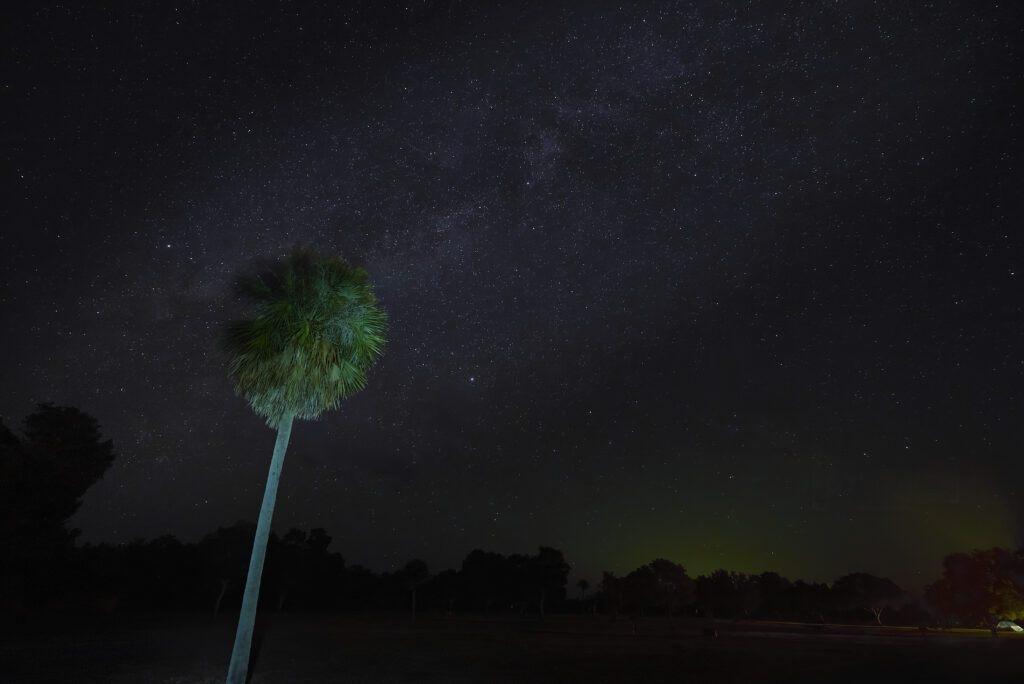 Monday came too quickly and we started our way out of the park. Stopping by the tented area near Florida Bay to check out the bird life. This area along Florida Bay is not open yet to tent campers as it is still wet. We saw osprey, avocet, turkey vulture, and some shore birds. As we drove by the new hotel I saw an animal crossing the road. I did not have time for a picture as I was driving but I did notice it had a tail. One of the main things to look at when seeing a large cat-like animal in Florida is to notice if it has a tail or not. No tail then it is a bobcat. If it has a tail then the animal could be either coyote, fox, or panther. This was too large to be a fox so it was either a coyote or a panther. The ranger we spoke with said it could have been either as both have been seen in that area of the park.
There was an alligator on the side of the road as we came into the park. There were ants and files all over it. The smell was really bad. On the way out the alligator was still there but it looked like the buzzard had had a meal or two. This is nature in its raw form. I saw a bunch of dead birds this trip, which were hit by cars. Please slow down in the parks. Go slow you never know what you will see. Maybe a cottonmouth crossing the road or a panther?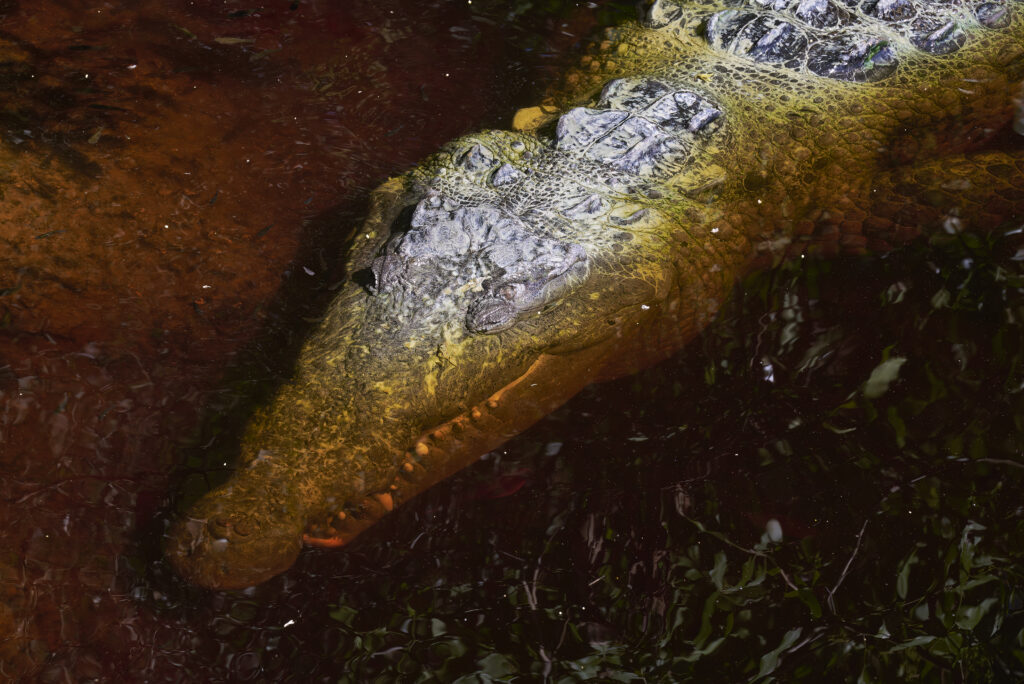 ---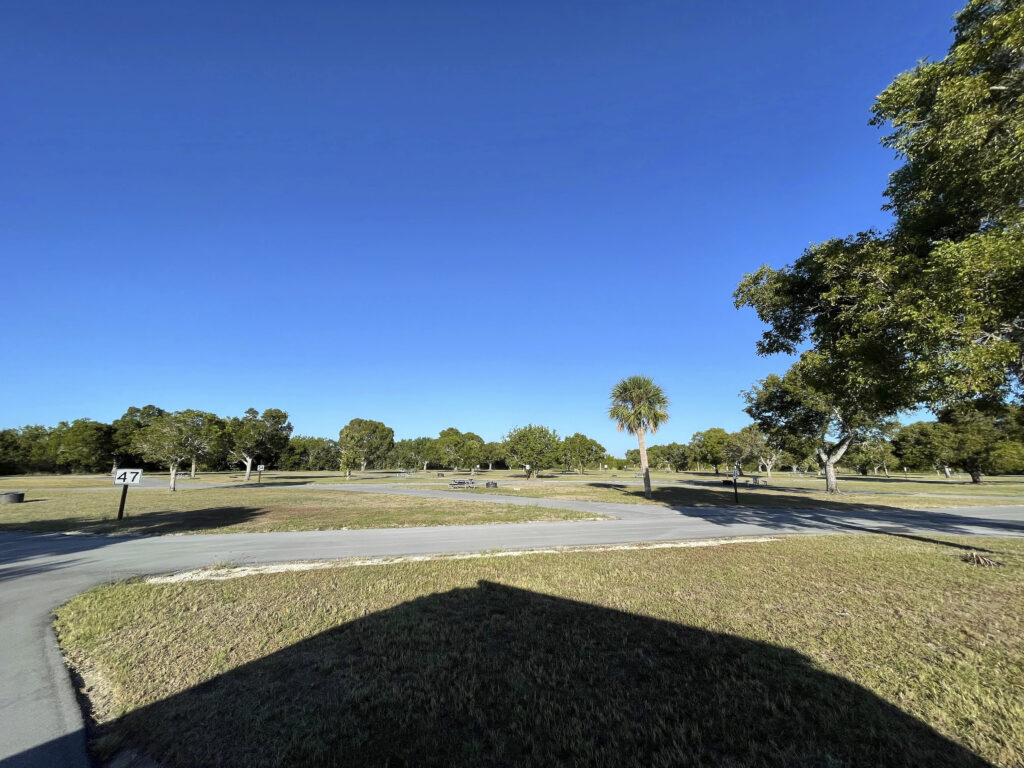 NOTE: All photos and videos are the property of Wayne and Margaret Shoemake. If you want to use them, please click on the contact us page and email us.