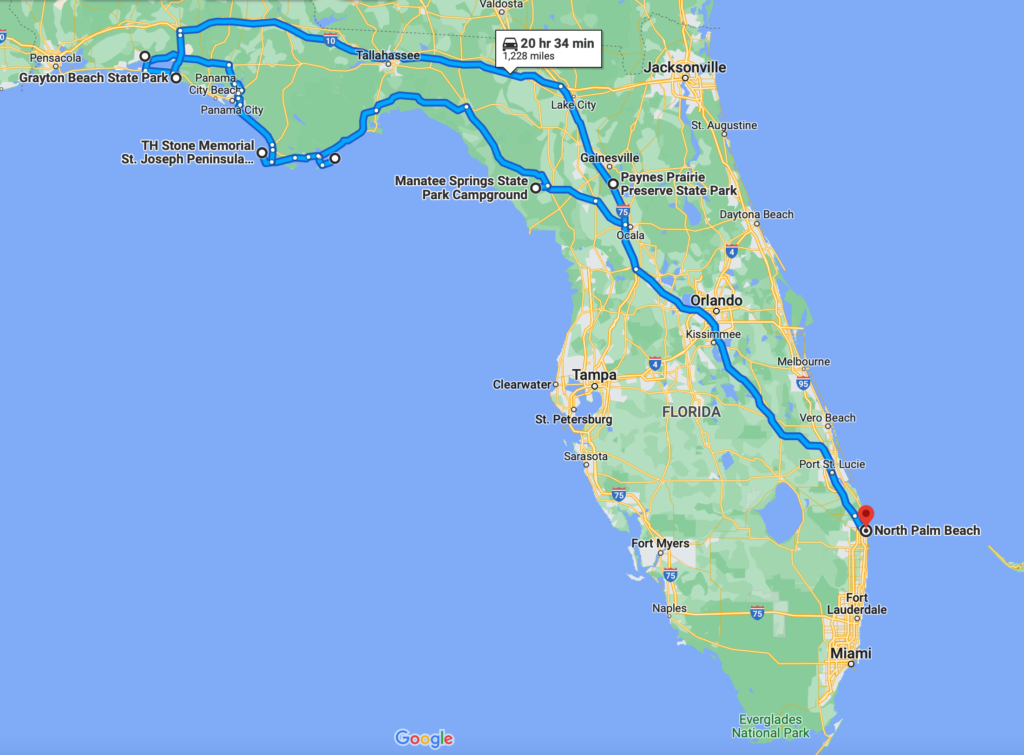 Dates:
Nov 19 – 27, 2022
Parks visited:
Manatee Springs State Park *
Dr. Julian G. Bruce, St Georges Island State Park *
T.H. Stone Memorial, St Joseph Peninsula State Park
Fred Gannon Rocky Bayou State Park *
Grayton Beach State Park *
Deer Lake State Park
Eden Gardens State Park
Paynes Praire Preserve State Park *
Miles traveled:
1315 miles
Campgrounds
5 (asterisks above)
Time zones:
2
What we learned about the van:
How to work the fan and the heat and I think I figured out the convection oven
Would we go back?
Yes, all the parks had their own unique features
Website:
Florida State Parks
This was the longest trip in the van – 9 days with multiple stops. Wayne has been saying this will be the true test of van life for us. If we can survive this we should be able to do longer and longer trips. There were many new things for us on this trip. Did we pack enough clothes or are we going to have to do laundry? Did we bring the right clothes or will we have to buy some? Did we pack enough food or will we have to stop at Publix? Did we book nights in the van so far apart that we will drive all day? Did we choose the right parks? Are we staying long enough in each of the parks?
We booked the trip/sites back in June with St George Island as the main stop and then we filled in the other parks around the dates we were able to reserve at St George.
The weather in Florida around Thanksgiving can vary. We can have cold snaps with no humidity or it can be the typical summer day, hot and humid. On this trip, we had a little bit of everything. Not hot or humid or snow, so we were happy. Some days were great for photography others were not, but we took photos anyway.
We had enough clothes and they were the right type. We packed enough food but not enough water or beer and wine. The parks were a good distance apart and we did not feel like we were driving all day. I think we chose the right parks but would have stayed another day in each. The only negative thing I can say is that humans create a lot of trash. It was everywhere on the roads we traveled from the highways to the back roads. The parks were clean but the rest of the roads in Florida were not clean. We need to take better care of Mother Earth. Put trash in its place which is in a trash can and not the side of the road.
The outcome of the 9 days trip was that it was not long enough and that I could have stayed in the van for more nights. Wayne agrees. We had so much fun and saw so much of Florida we are excited to book more trips for 2023. Maybe we will even get out of Florida in the New Year.