---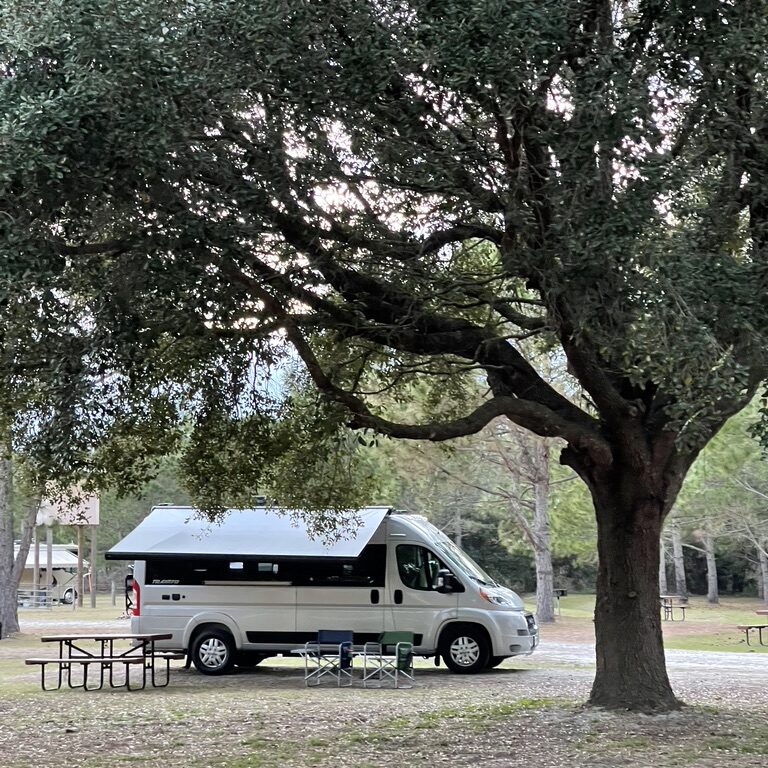 Date:
February 12-13, 2022
Location:
Istokpoga Canal Campsite, Lorida, FL
Type:
boon-dock
Mileage
215 miles
What we learned
That we need a checklist
Would we go back?
Yes, and bring kayaks next time
web site for
reservations
https://secure.rzda.net/sfwmd/list.cfm
---
Wayne and I were so excited when we picked up the RV but when we got home and tried to book our first campsite… everything was booked up. The snowbirds are still here in Florida and with rv-ing so popular due to the pandemic all the sites were booked. We had a choice of a KOA in Okeechobee for $100 on a concrete pad with electricity and water or boondocking in nature. We chose the latter. The more you read about us you will learn how much we love nature. We basically went glamping. February was cool enough that we did not need the AC and being gone 1-night water was not an issue. We took our camp lanterns and rechargeable fans just in case. Neither were needed as the van has solar panels and we used the coach lights and it was cool enough so we did not even need the fans.
This was our first trip in the RV and we did not get off PGA Blvd without having to go to Publix as I forgot to pack food for dinner. Wayne did not even get upset as he was really excited to get away. The first thing to do was to start creating a checklist of all the things we forgot or felt we needed to make our RV home. The campground was nice, not crowded probably because of the boon-docking. There is a boat ramp to launch your boat or kayak. You can go east to the Kissimmee River but you cannot go west to Lake Istokpoga. There is a railroad on the other side of Rt 98 and you will faintly hear the train a few times but it is not overwhelming. The trail along the water was full of oak trees with Spanish moss, just beautiful. We did not go far as it looked like there was a raccoon not behaving correctly so we turned around. We had a very relaxing and peaceful first overnight stay in the van. We will definitely be coming back next winter to walk the trails as well as check out the Kissimmee River by kayak. We woke up to rain but it cleared up as the day wore on.
I drove the RV home, which was just like driving my Jeep, not scary at all. Purchasing the Travato is another plus as it allows both of us to drive. Our Winnebego is based on the Ram ProMaster 3500 and is 21 feet long, which will fit anywhere. On the way home, I was dying to check out Kissimmee Prarie State Park to see if we wanted to return at a later date. More on this park in a future post.