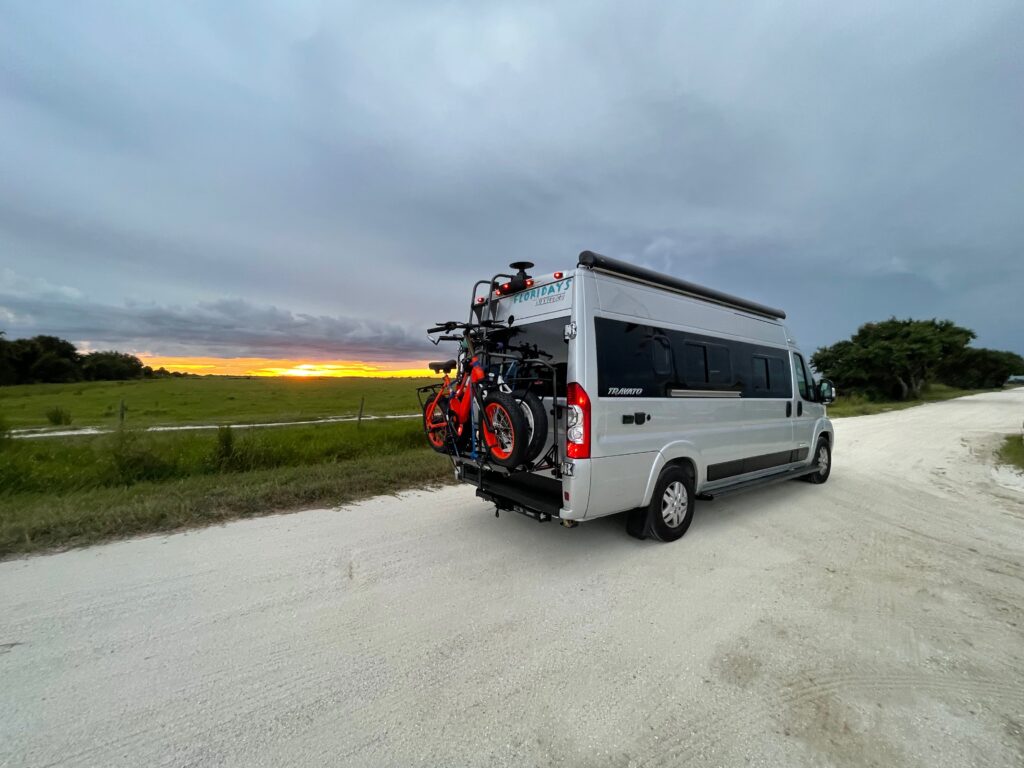 Date:
Aug 26 – 28, 2022
Location:
Kissimmee Prarie State Park,
Horse site and Family site
Type:
water, 30 amp
campsite:
Site #23 & #5
Mileage:
196 miles
What did we learn?
That Florida has some spectacular sunsets
Would we come back?
Yes
Website:
https://reserve.floridastateparks.org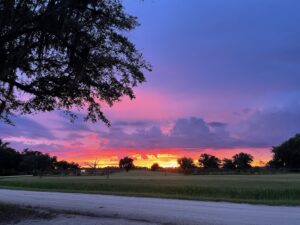 Our 3rd trip to Kissimmee Prarie did not disappoint. This is a trip I reserved a while ago and we again decided to come up after work. This is why the 2 campsites. Site #23 was booked this past week and site #5 was booked months ago. I am so glad we stayed in site #23. Just look at the sunset. I do not think I have ever seen a sunset like this in Florida. It had purples, yellows, oranges, and pinks. We parked just as it was getting good. I do not think we even hooked up to the electricity, I grabbed my iPhone, and off I went. WOW, just WOW.
We slept in on Saturday as we will be up late hopefully with clear skies to see the Milky Way and as an added bonus Space X is launching another rocket with Starlink satellites. As we arrived late we had to check-in in the morning so off to the office we went. Just as we pulled into the office area the rain started coming down. In Florida rain usually doesn't last too long and this was the case. In about 15 minutes it went down to a drizzle and we rode back to the campsite. Instead of loading both bikes on the van to move it, we loaded Wayne's bike as he drove the van to the new site #5. I rode behind the van to get some video. Once moved the rain started again so we spent the afternoon reading. We got out of the van at about 5:30 and rode out to where the alligators usually are and we only saw 2 alligators. But we did see a bunch of butterflies. I did not have my camera so we planned on coming back on Sunday on our way out of the park to photograph them. We decided to check out the sunset, thinking it would not be good because of all the rain, but we were wrong. Again it was gorgeous. This time there was a deer feeding right in front of us as we watched the sky change colors.
I set the alarm for 11:15 pm so we could walk out to the main road to see the launch. We were able to see the rocket blast off but it soon went behind some clouds and was gone. No worries as we saw it along with some fireflies. The mosquitoes were horrible as you can imagine with the standing water from all the rain. The clouds came in and we could not see the Milky Way. So I guess we will have to come back.
We got up at 6:00 am Sunday morning to catch the sunrise. It was good. Bugs were out in full force and we saw a deer and there was some turkey at the campsite when we returned. We lounged around for a bit and then packed up to leave as we wanted to spend some time at the alligator hole. There were 2 alligators and many butterflies which I tried to photograph. The Friends of Kissimmee Praire have wildflower and butterfly outings throughout the year. I think we may need to go on some of these outings with them As we left the butterflies and drove out of the park, we spotted a caracara in an old oak tree. I stopped the van so Wayne could get some pictures.
Animal sightings: Alligator, fireflies, deer, turkey, caracara, butterflies, grasshoppers, dragonflies
After having stayed at horse sites and family sites, I really have no preference. The family campsites are very well-shaded and are large just like the horse sites. There are just more family sites.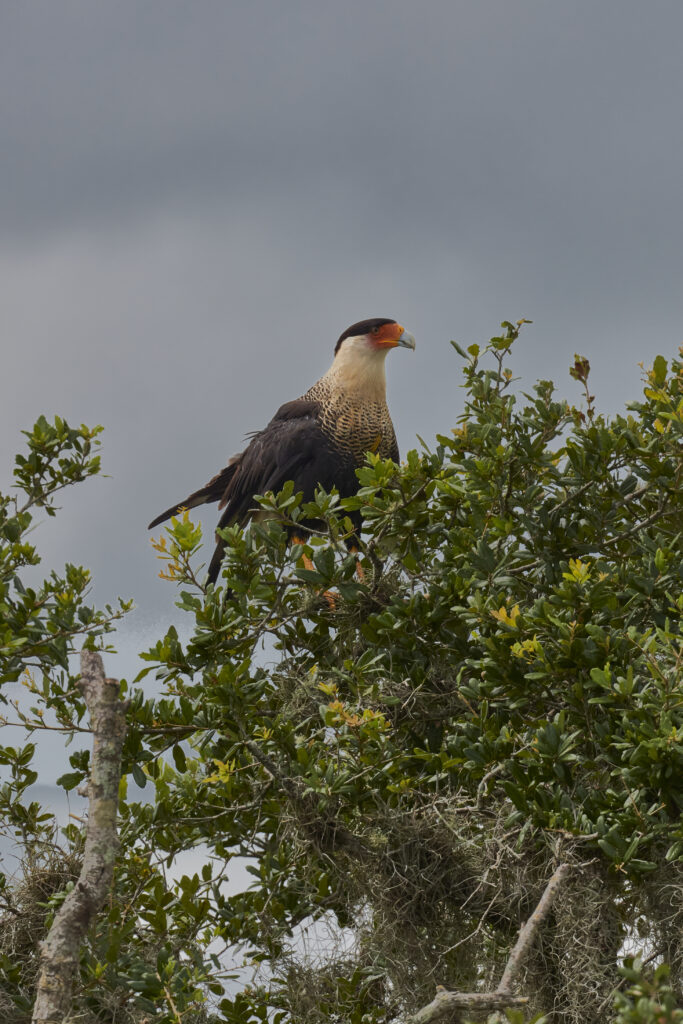 ---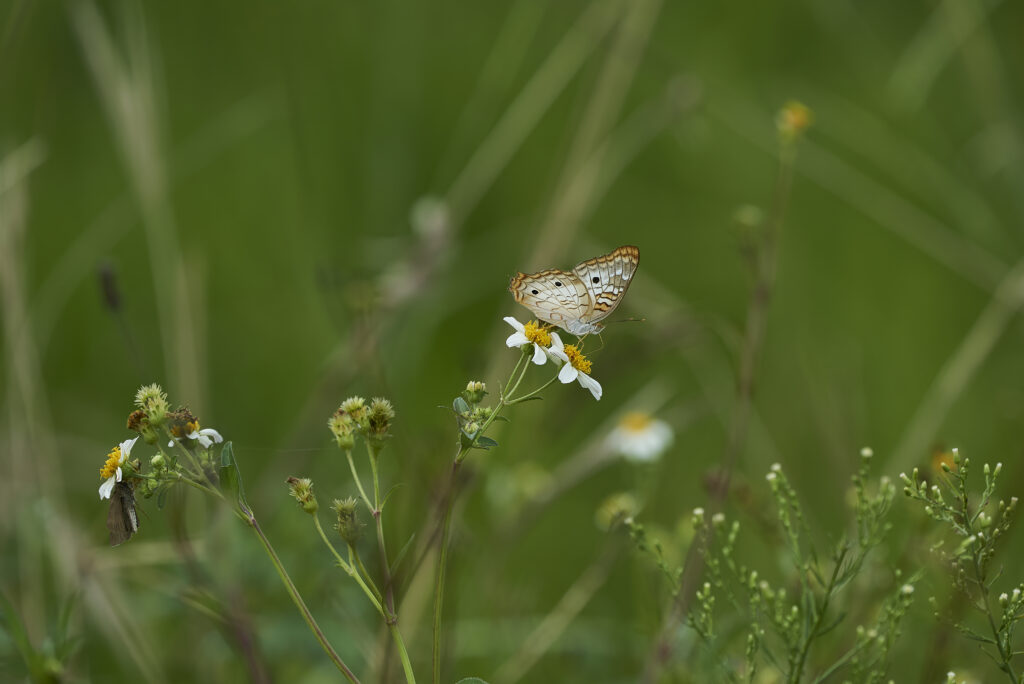 NOTE: All photos and videos are the property of Wayne and Margaret Shoemake. If you want to use them, please click on the contact us page and email us.