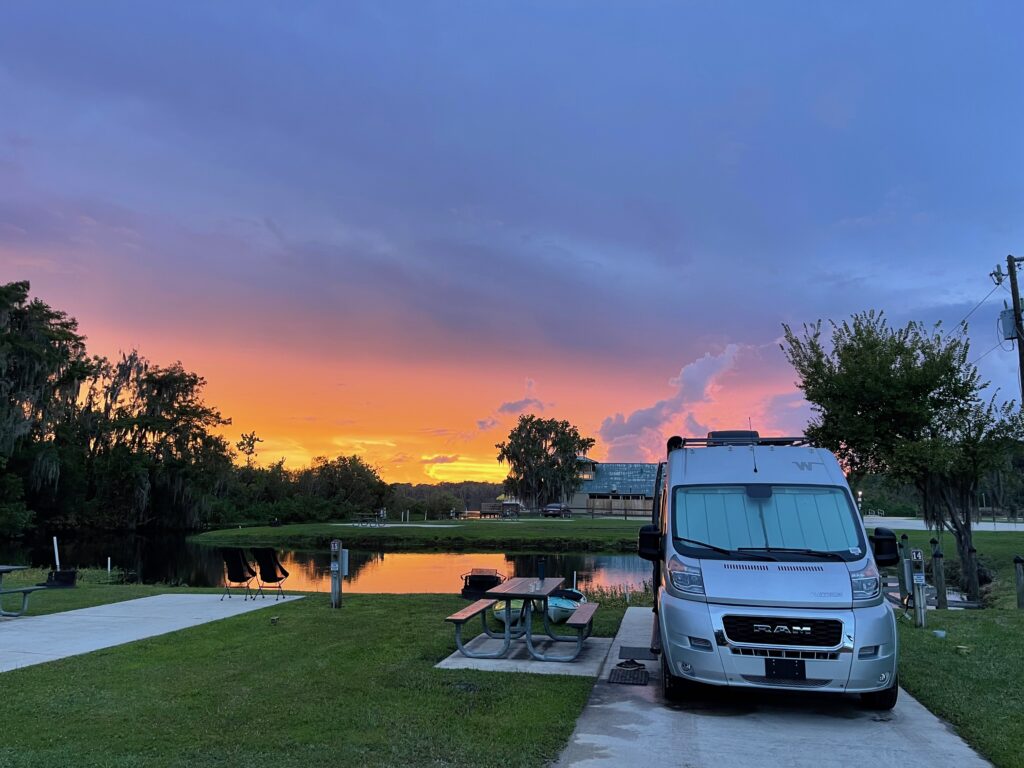 Date:
Sept 2 – 4, 2022
Location
Bull Creek Fish Camp
Type:
water, 30 amp, sewer
Mileage:
256 miles
Campsite:
Bull Creek #13 then #14

What did we learn
1 – To always look at where you are going to park prior to back in.
2 – RV'rs are a great group of people.
3 – We need tools to get unstuck
Would we go back
yes
Website:
Flagler County Parks
Another trip that was put together quickly. Gamble Rogers State Park has a section that is right on the beach and a spot opened up unexpectedly for Sunday and Monday of Labor Day weekend. So I booked it as this park is really hard to get into. I then wanted to find a place for Friday and Saturday nights. I found Flager County's park Bull Creek Fish Camp.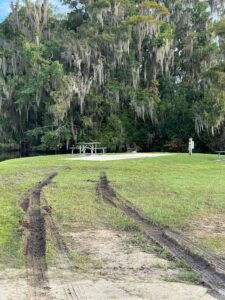 Labor Day weekend and we took a half day on Friday to start our adventure and what an adventure it was. Wayne drove Floridays and I drove our Jeep with the kayaks. We do have a way to put the kayaks on the van but we are dropping off Floridays on the way home at La Mesa RV in Port St Lucie to get an oil change and some items fixed. We arrived at about 6:00 pm. I was directing Wayne on backing up into site #13 when Floridays got suck in the grass. It had rained here for the last 3 days and the ground was saturated and with the weight of the van, it just got stuck. The front tires were just spinning. There were some other RVer's and I asked them if they had anything that could assist us in getting unstuck or if they knew where we could purchase some items to assist us. Well, our fellow RV'rs assisted us. They had some leveling blocks that we put down in front of the front wheels and as I drove and they pushed after a few times Floridays got unstuck. Relief. Now where to go? I called the phone number on the check-in shed and let the gentleman know our situation. We were able to move to site #14 without issue. I was shocked, this is a holiday weekend in Florida and I would think the place would have been booked up. Come to find out there were at least 12 open spots.
The RV'rs that helped us get unstuck were so nice and friendly. I asked them if I could pay them for their broken leveling blocks, or clean the ones that made it but they said no. They did not want anything they just said to pay it forward. Which we intend on doing.
We settled in and planned for tomorrow. Bull Creek Fish camp sits at the end of Bull Creek as it empties into Dead Lake which goes to Crescent Lake and Haw Creek. It is a Flagler County park.
On Saturday the plan was to go kayak up Bull Creek, the plan got changed quickly as it was clogged with vegetation. We then decided to head down through Dead Lake and to Haw Creek. The paddle was very calm and relaxing. We saw a blue heron and flocks of ibis and thought we would see more than 2 gators. All the boaters stayed in the 2 lakes and we had Haw Creek all to ourselves. I found some orchids, resurrection ferns, and mushrooms. The Merlin ID Bird app did its job and identified: Pileated Woodpecker, Carolina Wren, Great Crested Flycatcher, Red-bellied woodpecker, and a Worm-eating Warbler. After paddling back to the campsite we pulled the kayaks right up to the van so we could go out later when the day cooled down. Lunch was at the fish camp as it got high ratings and it was really good. As we were sitting out enjoying the late afternoon, watching a baby alligator in the water, our neighbor Don walked out with his fishing rod. He came over and we talked about RVing and all the places he and his high-school sweetheart had traveled. Don gave us some good tips and places to go. As we were talking the sky caught our eye as it was on fire with another great sunset. Don went to get his dog Buddy and a camera and we grabbed our cameras and raced to the dock to get some amazing pictures. What started off as a bad experience ended well. We will come back to explore more.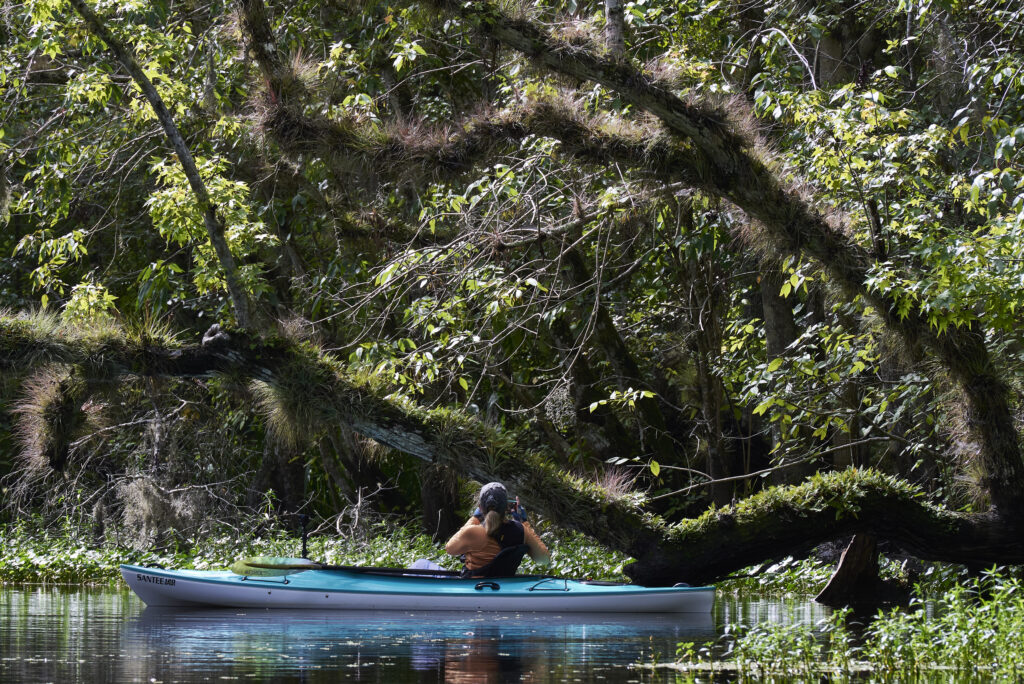 ---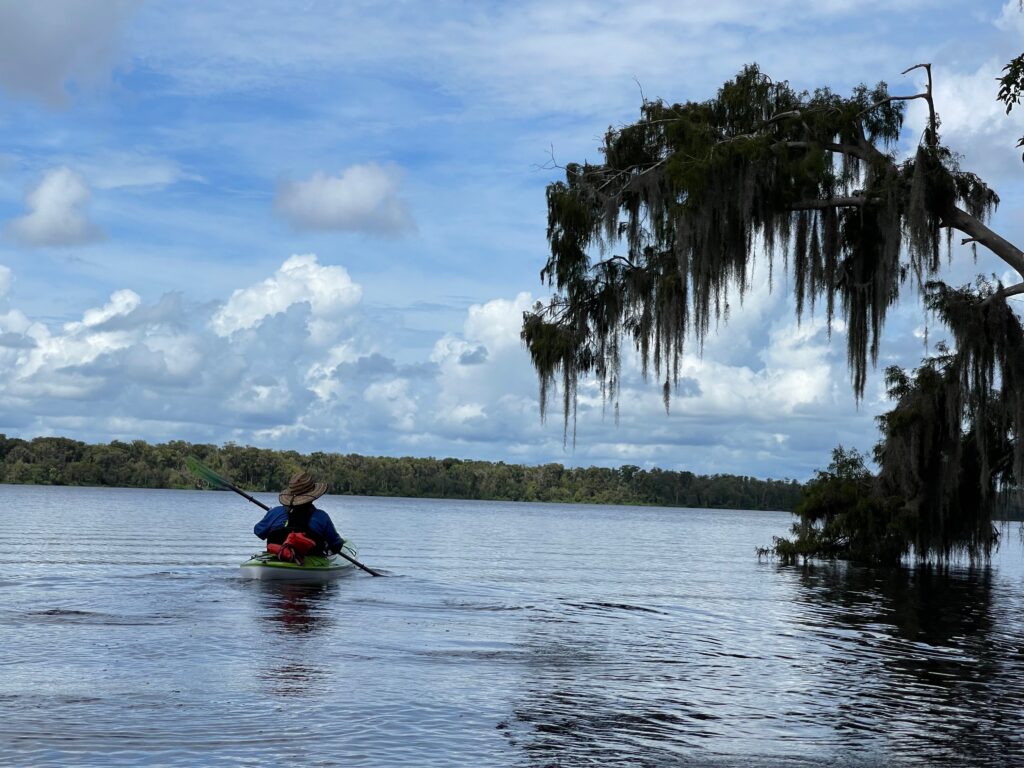 On Sunday we got up and thought we would paddle the lake but decided to get on the road and explorer the area between Bull Creek and Gamble Rogers. I looked on the phone to see if there were any state parks on the way and there was Bulow Creek State Park. There are 2 parts to the park, 1 with an old oak tree called Fairchild oak, and the other is where an old plantation is located. We decided to check out the Oak first. The 500-year-old oak tree is very large. There is a short 1/5-mile trail that we walked. I am glad we did as we saw mushrooms and mushrooms and mushrooms. They were everywhere. Then we drove about 5 miles down the road to enter the main area of Bulow Creek State Park. Once you turn off the main road the 1-mile road to the entrance is like you are going back in time. It is wide enough for 1 car. The oaks and Spanish moss hang over the dirt road. We arrived a the parking area and as I went to get the tag/fee envelope Wayne started talking to the park ranger, who was giving us many pointers about the park system and various parks around the state. We mentioned seeing a lot of mushrooms over by Fairchild Oak and he said this year is exceptional for mushrooms. There are more mushrooms than he had ever seen.
We hiked the trail to the ruins of the sugar processing plant and along the way, we saw different mushrooms and a gopher tortoise. There is much debate these days on and about Plantations and I think they should be preserved as a reminder of how this country was built and who helped build it. This is the nation's history. We need to recognize the good, as well as the bad that happened in building this great nation.
We took some last mushroom pictures on the lawn around the picnic tables and we were then off to Gamble Rogers State Park.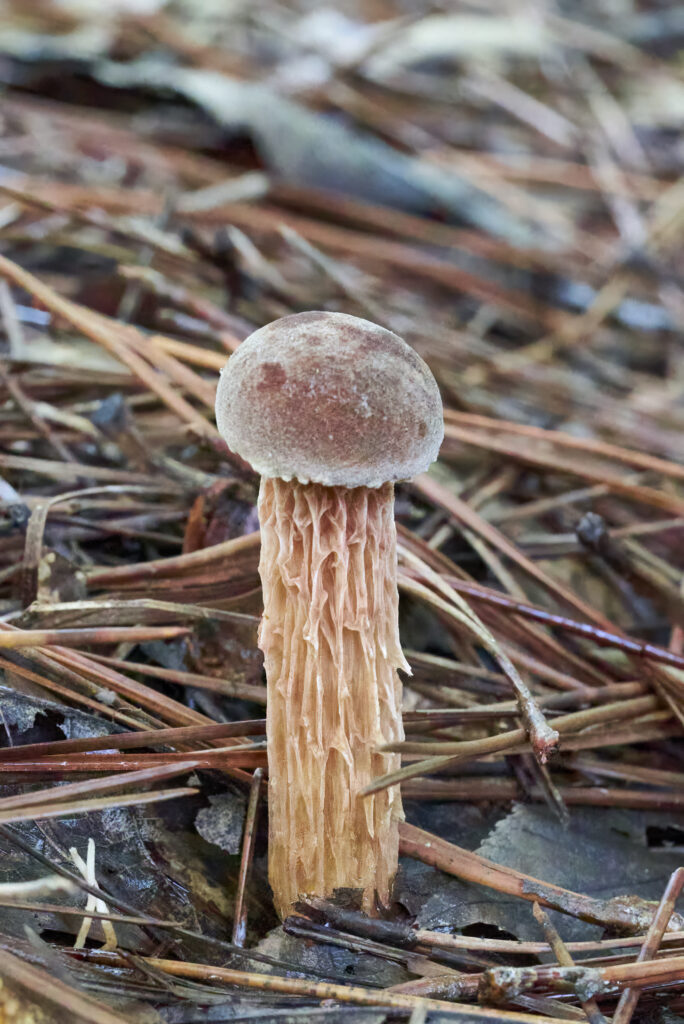 NOTE: All photos and videos are the property of Wayne and Margaret Shoemake. If you want to use them, please click on the contact us page and email us.