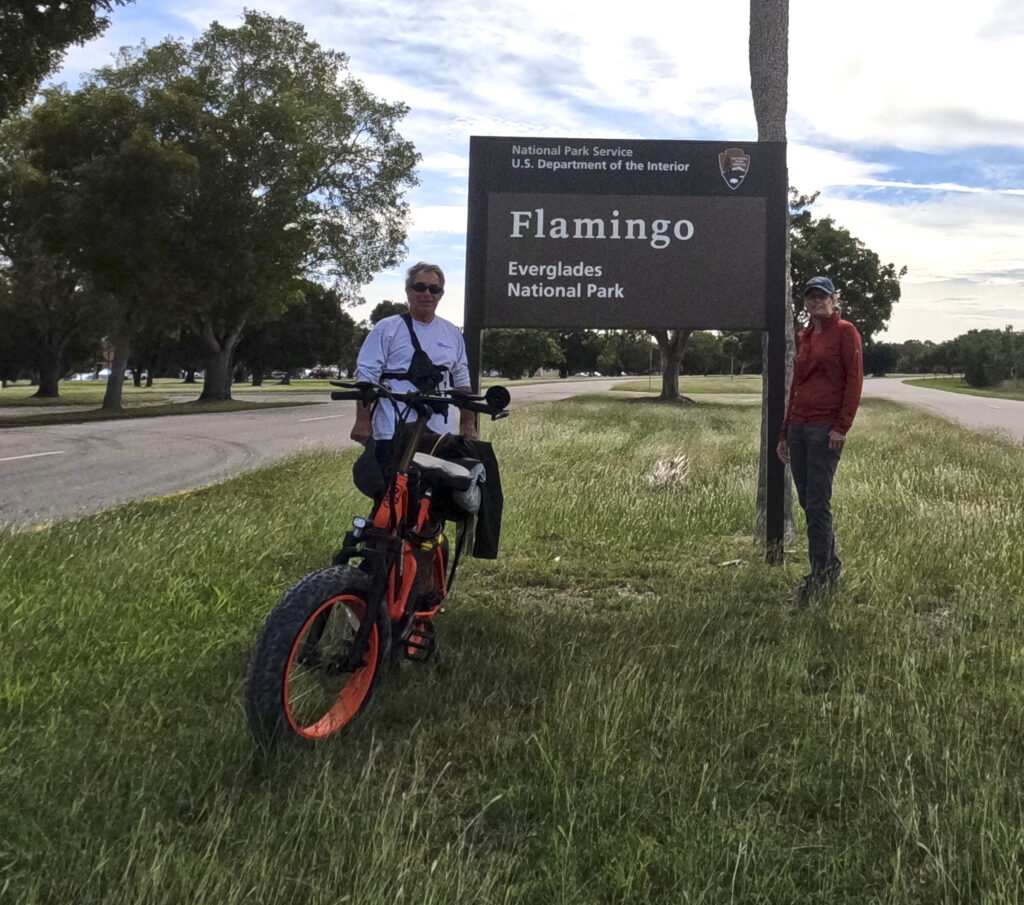 | | |
| --- | --- |
| Dates: | Dec 23 – 26, 2022 |
| Campground & site | Flamingo, #40 |
| Amenities | 30amp |
| What we learned: | Found a good seafood market in Homestead to get stone crab claws. |
| Would we go back? | Yes |
| Website: | https://flamingoeverglades.com/ |
---
Going away for Christmas is new for us. We usually stay home and walk around the neighborhood to see the decorations. But we have an RV this year so let's use it. Weather in Florida at Christmas can be warm or cold. You never know. This year the arctic freeze dipped down into South Florida and Flamingo was 44 degrees, with a good wind which made it feel colder. I know it wasn't cold for our friends up north who had negative temperatures due to the arctic blast. Friday was still warm and it did not get really cold till Sunday. On our drive down we stopped at the ranger station to sign up for a wet walk for Monday on our way out. We also stopped at Pay-Hay-Okee, 9 Mile pond, and Paurotis pond. There was not much going on except a large and I mean large crocodile out sunning itself at 9 Mile Pond. He/She was just chilling on the bank right near the parking area. We had heard about crocodiles in this pond when we did a kayak paddle a year or so ago, but had never seen one here. The only crocodiles we have seen in the Everglades were down at the Flamingo marina and always in the water. So this was a treat. Also, a treat was the stone crab claws we picked up in Homestead. They were fresh and they were yummy!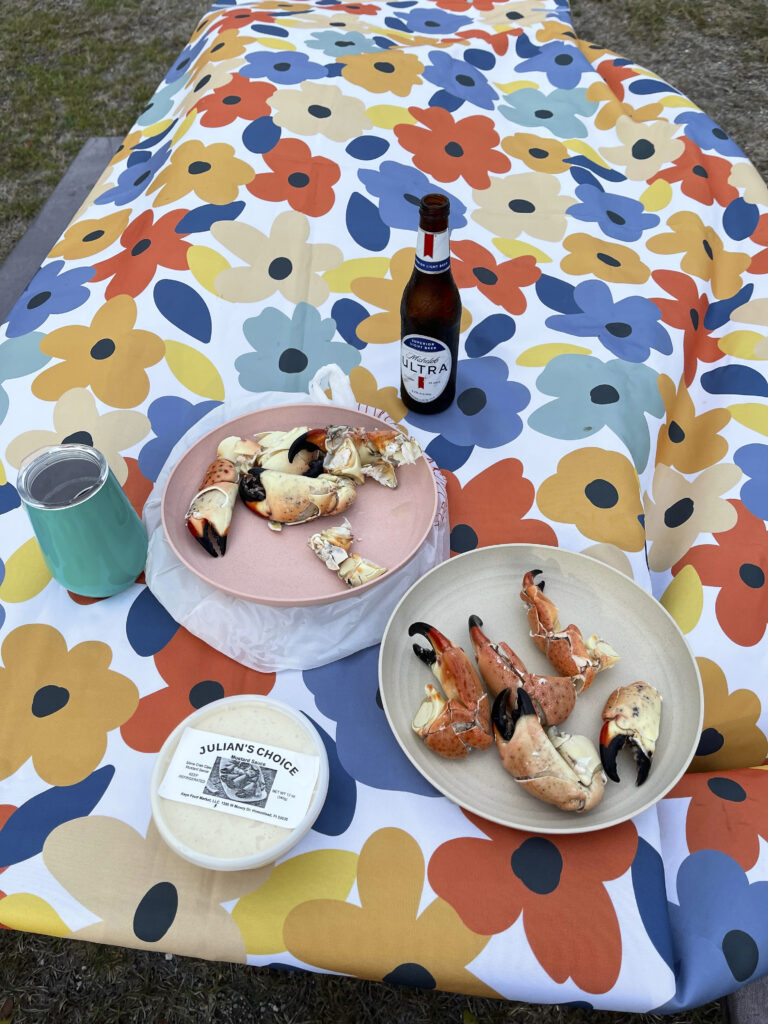 Saturday we took the bikes down to the marina, where were saw osprey and manatee. We then rode down the Bear Lake trail and Wayne's bike got a flat tire so we had to walk all the way back to the campground. The weather started turning cold on Saturday night and we were scheduled to go on a boat trip on Sunday into Florida Bay. We woke up and it was really cold at 44 degrees with the wind and rain it was cooler than that, we decided that the boat trip hopefully can be rescheduled to another day. We spoke with the captain and he agreed. So we are in the process of rescheduling the boat trip for early 2023. So we drove back up to Parotus pond and stopped along the way to see if we could find any wildlife. Nothing. I think everything was hunkered down and trying to stay warm. We as well drove back to the campground and just relaxed for the afternoon. Later we walked to the Coastal trail which is behind the A-Loop tent-only campground. We went down the trail a bit until it got wet and muddy, but it looks like a good trail you can walk on a drier day.
Monday it was still cold and windy and decided to not go on the wet walk so on our way out we let the rangers know we were not going. They mentioned we were the only ones signed up and the walk was canceled yesterday due to possible hypothermia.
It was not the trip we planned but having an open mind and being able to change plans it really valuable.
Wildlife sightings: Crocodile, Osprey, Crow, Manatee
---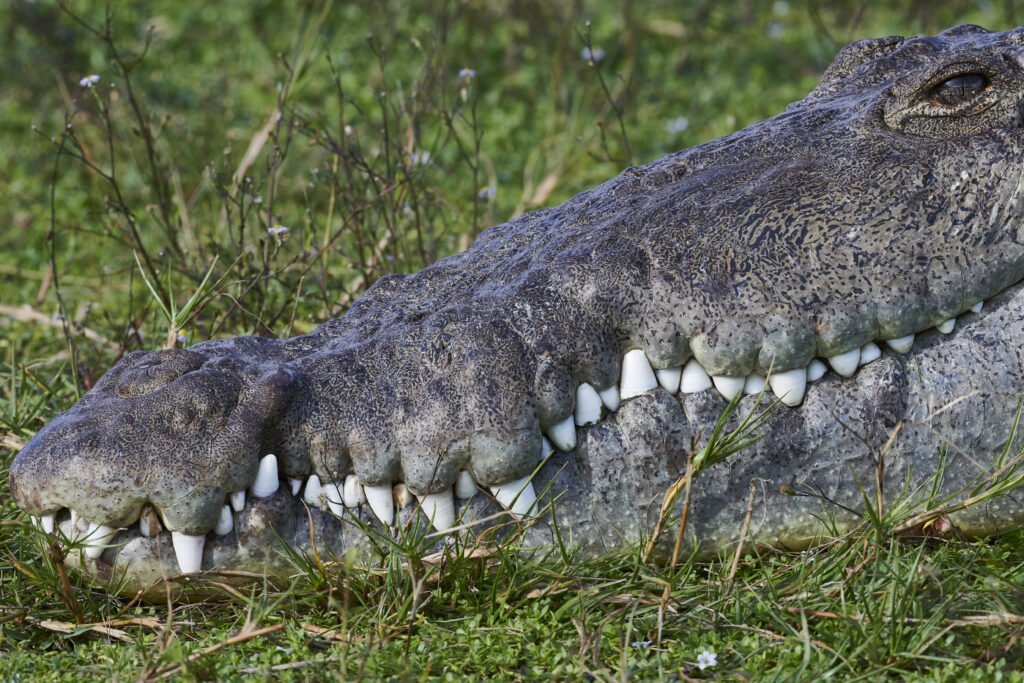 ---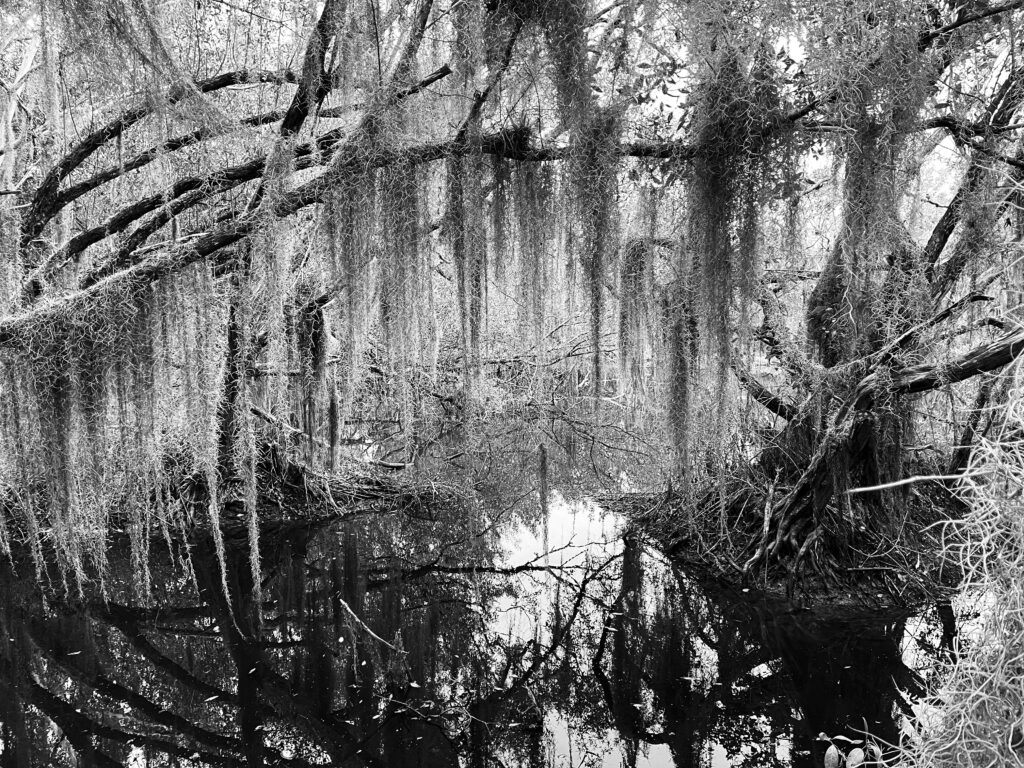 ---
NOTE: All photos and videos are the property of Wayne and Margaret Shoemake. Please click on the contact us page and email us if you want to use them.